Greg Pak opens the doors to his new Astonishing collaboration with Mike McKone
By Jim Beard
As the new writer of ASTONISHING X-MEN, Greg Pak intends to live up to the title's adjective.
The man behind World War Hulk and other Marvel classics begins his run with #44 this Wednesday, November 23, with a new mission for Cyclops and a loaded lip-lock for the X-Men leader with the stunning Storm. But that's only part of the kick-off of Pak's new story-arc, a tale that follows on the heels of one of the most divisive events ever to shake the mutant community.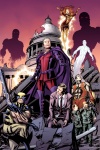 ASTONISHING X-MEN #45 preview art by Mike McKone
"We open ASTONISHING X-MEN #44 with Cyclops in stoic hero mode, lifting weights in the X-Gym as part of his post-Schism-Wolverine-fight physical therapy," Pak explains. "But as we soon learn, he's dealing with some pretty substantial emotional scars as well. 
"Schism laid the groundwork for the emotional story we're exploring. Cyclops has lost many of his dearest and oldest friends. During the course of our story, he'll have a chance to rekindle those old friendships and the heroism of a more innocent time. Exactly what he does with that opportunity and what secret challenges might lie in his path remains to be seen."
Pak promises a whopper of an adversary to stir up trouble in his run, but for now he's remaining mum on that personage's identity.
"We meet our big baddie in issue #44. You might not recognize him yet. But you know him. Keep on reading, friends!"
Along with the hallmark mutant action that's defined the X-titles, the writer also notes his drive to infuse the series with a healthy dose of pathos and real emotions.
"There's a significant emotional story for every character in the book, so I'm doing my best to raise the stakes with every scene," he says. "Sometimes the characters are deflecting with humor; other times the drama breaks through in much more searing ways. There's a moment in issue #45 involving a Spider-Man lunchbox that sort of crept up on me. And there are some key interactions between Cyclops and the guy on the cover of issue #46 that felt pretty great.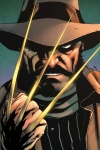 ASTONISHING X-MEN #46 cover by Mike McKone
"The trick is always to make sure that the emotional storyline is powering every aspect of the book. When the emotional storyline underlies every bit of action and the action increases the tensions of the emotional storyline, we've hit the sweet spot.
"Another hallmark of X-Men stories are big, crazy sci-fi ideas that in some way reflect on that central theme of mutant survival. The 'Exalted' story that runs from issues #44 to #47 turns on exactly that kind of huge concept. But again, what makes all that mind-bending sci-fi madness work is that it's all grounded in major emotional experiences and decisions for our central characters."
And of course, there's the kiss seen round the world. Scott and Ororo don't necessarily show up on most X-fans' romance radar, so one might wonder what Pak's up to with this new wrinkle in X-Men personal relations.
"I love the fan reaction to that crazy kiss," he reports. "It goes right to the heart of why we all love the X-Men: we care about these characters and we're involved in their struggles and emotional lives. Imagining what's going on in these heroes' hearts and speculating about what's coming next for them is a massive part of what makes reading these comics so fun. So I'm thrilled that the cover of ASTONISHING X-MEN #44 has been able to be part of that." 
Another huge part of the series falls upon the shoulder of Pak's partner in astonishment, artist Mike McKone, who has most recently wowed the industry with his work on AMAZING SPIDER-MAN and AVENGERS ACADEMY.
"Fans of Mike's books know that he always delivers gorgeous, clean lines, fantastic action, and great character moments," says the writer. "The added bonus here is the amazing texture he's bringing to our book. He's inking his own pages, and there's a depth and grit to the art that makes every scene immediately compelling and real. If you loved the look and feel of those [Joss] Whedon/[John] Cassaday issues, you'll be right at home with this story.
"And let me rave a bit about Rachelle Rosenberg's colors as well. She's doing a tremendous job of keeping things subtle and real while cutting loose with the fantastical action. This is a very, very, very pretty book, and I couldn't be happier!"