The writing duo returns to the mutant corner of Marvel, teaming with artist Ed McGuinness and bringing a prodigal X-Man home!
Since its debut late last year, Jason Aaron and Ed McGuinness' AMAZING X-MEN has lived up to—and exceeded—the adjective in its title.
The "Quest for Nightcrawler" story that kicked off the series has entertained fans with swashbuckling adventures, otherworldly pirate ships, and emotional reunions. The good times that the title has become known for show no signs of disappearing after the "Quest" reaches its end.
Incoming writers Craig Kyle and Chris Yost promise to keep the fun at the forefront when they take over the ship with AMAZING X-MEN #8. All the daring action and thrilling adventure will remain, just like series artist Ed McGuinness, as Kyle and Yost bring classic X-Man Colossus back into the fold and send the tightly knit team on a new mission.
To get the full rundown on AMAZING X-MEN's future, we spoke with writers Craig Kyle and Chris Yost.
Marvel.com: With so many X-Men comics on the stands right now, what do you think separates AMAZING X-MEN from the pack?
Craig Kyle: The easy answer is the creative team. The artists and writers on each book will always create their own tone, feel, and take on these amazing characters. As a fan I follow certain creative teams just because I love their unique narrative and visual storytelling. Grant Morrison and Frank Quitely are two of my personal favorites but I have many others.
The other answer is the characters themselves. We've got a great collection of characters, many of which are the best members of the classic UNCANNY X-MEN team. Chris and I are lifelong X-fans and love to weave stories that tap into the huge history these characters share. The personal, professional, social, emotional, psychological, and spiritual conflicts experienced by each X-Man offer us rich story material to pull from. In the coming issues we hope to create new stories that will please longtime X-fans like us while still allowing a clean entry point for new readers to jump right in.
Chris Yost: Well, I think the sheer amount of punching that fans are going to experience in this book really sets it apart. There's hugging, too, early on. Top that, Bendis!
Marvel.com: The first arc, which is wrapping up right now, really focused on the relationships between classic X-Men like Nightcrawler, Storm, Beast and Wolverine. Will the senior X-Men still be in the spotlight for your arc? Are there any other classic X-Men that you'll be adding to AMAZING?
Craig Kyle: We love the all the classic X-characters and yes! They will absolutely be the core of our team moving forward. That said, we've had a chance to work will a lot of the up and coming X-Men and we love them too. It's too early to discuss specifics as to who will or won't be on the team I can tell you Chris and I both love Colossus and he's someone we both feel needs to be on this journey with us.
Chris Yost: Yeah, for me the appeal of this book was that classic core team. We're both hugely influenced by the [Chris] Claremont run [on UNCANNY X-MEN], and this team that Jason Aaron put together has that feel.
Marvel.com: With the first arc, "Quest for Nightcrawler," Kurt Wagner obviously took a central and pivotal role. What role will Nightcrawler play coming up?
Craig Kyle: First off, let me just say that Jason Aaron is a huge talent and we're both big fans of his books. His work on THOR: GOD OF THUNDER, WOLVERINE and this brief run on AMAZING X-MEN have made for some of the best reads I've had in a long time. He created a truly inspired and swashbuckling way to return Kurt to the living, which we loved as fans. Our plan is to do our best to keep that thread alive in a way that hopefully both Jason and the fans will enjoy. Here's hoping we don't screw it up.
Chris Yost: And now that he's back, we get to kill him again! In all seriousness, though, there will be moments in the first arc where he'll wonder if he was better off dead.
Marvel.com: Can you give us any hints about what type of threat the team will be facing?
Craig Kyle: We plan to tell big, surprising, fun and emotional rides for the characters that hopefully the fans will want to read again and again. That's the plan anyway. Wish us luck.
Chris Yost: The first arc should give people a sense of the scale we're going for here.
Marvel.com: Both of you have contributed a lot to the modern X-Men canon—you created X-23 and have runs on books like NEW X-MEN and X-FORCE to your credit—but this is your first time writing a main X-Men title starring a team of senior X-Men. How does that feel, and are you approaching it differently from your past work in the X-Men universe?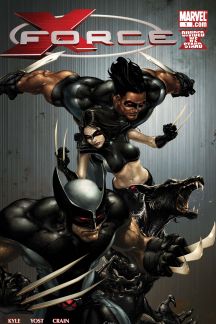 Craig Kyle: We've waited a long time for this opportunity, but we've really enjoyed all the titles we have worked on, especially X-FORCE. So, while this is a truly exciting opportunity, I'm most excited about working with Chris, [editor] Mike Marts and Ed McGuiness. Chris and I haven't written an X-book together in years. Mike was our first editor in the X-Office and to have him back with us is just awesome. And I've been a huge fan of Ed's work both in and out of Marvel forever so to have him driving the visuals is an absolute thrill. So for me, it's the real people involved that makes this the most exciting, not the made up ones.
Chris Yost: It's like coming home to old friends. This office, these characters, it's where we got our start writing comics. But our approach has always been the same: tell the biggest, best stories we can with characters we love.
Craig Kyle and Chris Yost kick off their AMAZING X-MEN adventures in June!