The star of Kroll Show steers his creation into its final season, compares his characters to Marvel heroes, and more!
Nick Kroll is a busy man.
Between his popular role as Rodney Ruxin on FXX's "The League," his film career, his semi-frequent stand up dates and popping up on various comedy shows and podcasts, he still has time to produce and star in his own series on Comedy Central aptly entitled "Kroll Show."
We recently spoke with Nick about season three being the last for "Kroll Show," the special features you can find on the DVDs of seasons one and two, which "Kroll Show" characters compare to which Marvel super heroes, why he's a fan of Deadpool and much, much more.
Marvel.com: To begin, it's the last season of "Kroll Show." You know, some of the characters you created before the show began, so I was wondering if any of them may go on after the series ends?
Nick Kroll: Well, I'd say first and foremost, all of these characters will live in America's hearts together…America's heart…it's one beating heart, isn't it? I assume things will live on in various ways, like John Mulaney and I are going in the 92nd Street Y in New York to do George and Gil, the "Hello" guys in January. Obviously it will be in promotion of this season of "Kroll Show," but George and Gil might just stay at the 92nd Street Y, and maybe John and I will never get out of character. We'll just live in the locker room at the 92nd Street Y as George and Gil. So if anybody feels like they're missing "Kroll Show," they can just come to any YMCA around the country, and George and Gil will be there in person or at least haunting it. And you'll know that their ghosts are there because there will be an overwhelming smell of tuna fish.

Marvel.com: The character I want you to stay as for the rest of your life, which I always mention when I see you, is Fabrice Fabrice. Will he live on?
Nick Kroll: Well, you can't kill Fabrice. Fabrice will truly live on forever. There's no killing him, because he's a survivor. That's the beauty of [it]; I built a lot of these characters originally for live stage stuff in New York, and then I started making videos with various ones, and I think they're…I don't have a great answer for it except it's all situational and as things come up, there's a couple characters that will be tougher to do going forward. Maybe a couple of them die on "Kroll Show" this year. So that's something to keep in mind. That's a big risk you take by being a character on "Kroll Show," you know. You might end up dead. When the characters signed on to be on "Kroll Show," they knew that at any point they could be killed off.
Marvel.com: [Laughs] That's awful. I heard in a previous interview, you love how all your characters seem to have some kind of aspect to them that makes them redeemable. Is it hard for you to say goodbye to some of these characters when you actually put all this heart into creating them?
Nick Kroll: Yeah, I don't know this as a fact, but I would assume if you talk to most people—and I'm making this direct comparison because I believe that my show is probably more important than "Breaking Bad"—but if you talk to Vince Gilligan about Walter White or people who end up being pretty villainous, you still try and make them interesting. There is something always redeemable about them. It's tough to watch people who have truly no redeemable qualities, I find, even when they're the villains. Like with Marvel; most of the villains of all these super hero movies, there's some inciting incident that causes them to be terrible or you're still finding out a way to justify why they're doing what they're doing, even though you're not rooting for them. You understand why or how it happened, you know? So I am, just to be very clear, comparing "Kroll Show" to both "Breaking Bad" and, let's say, I don't know, which Marvel movie would that work for?

Marvel.com: Let's do "The Avengers."
Nick Kroll: Loki. Exactly. Loki's dad didn't love him so much; didn't love him as much as the other one. You're like, "okay, I get it!" I think that like, the truth is, they're just fun to play. It's fun to play [expletive] and it's fun to play douchebags. It's fun to play people who, in real life, I wouldn't want to actually hang out with. And I can use all of the things that I'm observing and judging people for in those cases and be able to play them. But you're still finding love for those folks.
Marvel.com: I wanted to mention too, seasons one and two of "Kroll Show" are coming out on DVD. What can fans expect from the behind-the-scenes stuff?
Nick Kroll: I do think that, especially for our show in season three, so much crazy [expletive] happens. And the more that you know seasons one and two, the more you'll appreciate season three. And so the DVD is a nice way to do it, especially because we're not on Netflix. We're on Hulu for a while, then we're on the Comedy Central app; we're on this constantly rotating thing. And so the beauty of the DVDs is you get both the first two seasons, and I think it really helps. You get to see the progression of the show from like, some long-form stuff in season one, but really a sketch show with these characters, and then those characters start to cross over with each other. And it's a really pleasing thing to watch, progression in season two and then in season three it's like a total "worlds colliding" constantly. Everything's coming together. But on the DVD, there [are] the episodes, and then we did a bunch of director's commentary on maybe four or five episodes. And it's me with Jenny Slate, me with [Jon] Daly, me with Jon Krisel and John Levenstein. Jon Krisel was the director of seasons one and two and John Levenstein was showrunner and executive producer. Jason Mantzoukas did an episode commentary with me. So that's always fun to sort of hear obviously the stuff that's going on that brought you to that point. And also we've got the full music videos of "LA Deli" and a bunch of the other songs that are on the show that we made videos, and then also karaoke. Karaoke tracks with the proper Korean couples, you know, like the Korean videos? So it's like, "LA Deli the karaoke version" and a couple of other songs from season three. So you can literally do karaoke of "LA Deli" off of your DVD player. There's probably a few other special features that I can't remember off the top of my head. It's so weird, figuring out how to get all the episodes in one place, that it's nice to have it.

Marvel.com: Does the karaoke and all that stuff correlate with the album that's coming out? Or is that a totally different thing?
Nick Kroll: The album is all the songs from "Kroll Show" from the last two years. The wrap gift from season three for the crew is the inspiration for doing the album. It's all the characters from season three; it was just like. "We have all these fun songs that are kind of awesome to have." And so we decided to make an album of it. And it's an actual vinyl album.
Marvel.com: Oh wow! That's awesome!
Nick Kroll: It's not for sale, the vinyl album, but you can get a sense of everything on it. And it's kind of awesome. I'm very proud of it. And so we have all the songs on it. And it was an inspiration to make the album. And people really get a kick out of the songs. A lot of the music on the show that we use is either library music that our editors [who directed season three, Dan Longino and Bill Benz], they've been selecting all the music since season one. It's all library music that they use to compose the show. And then, instead of licensing songs, we'd pay Mark Rivers or Cyrus Ghahremani. And Asa Taccone, who did a couple songs for us, we'd just pay them to make original music. And so Mark is the one who did all the Larry Bird stuff that sounds like John Mellencamp, and all the young Billy Joel, and "LA Deli," and all of that stuff is Mark Rivers, who did a beautiful job on it. And people kept asking me, "Where can we see the video? How can I get this song?" And we decided to make an album for it.
Marvel.com: I want to touch on some more "Kroll Show" in a second but I know Paul [Scheer] and Jason [Mantzoukas] are big comic book nerds, and I was wondering if any of that has bled over on to you doing "The League" and being friends with those guys?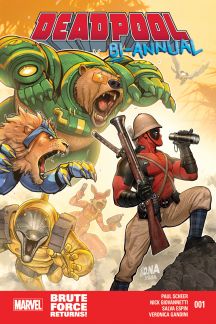 Nick Kroll: Those guys have gotten me more into them, and yeah, I started to get into it more. And I go to the movies but I'm starting to read them, and Paul [did the DEADPOOL BI-ANNUAL], so I started to get into Deadpool. It's kind of up my alley, obviously, because it's very funny. And I've been sort of enjoying that. I walked the floor with Jason and Paul this year at Comic-Con, we went to Artist's Alley. It is somewhat new, uncharted territory for me. And being with Jason and Paul, it was like them meeting their rockstar legends, you know? And of course I can't remember the names of the people that I met, but I know they were cool guys. They were big deal guys. I met an Irish guy who draws everything in negative base.
Marvel.com: Was it Declan Shalvey maybe?
Nick Kroll: Yeah! He was really cool. And yeah, it's an art form that is still sort of new to me, but I see and understand that it's something super relevant, especially now with the moviemaking. I didn't grow up a comic book kid, but it's definitely something that I'm kind of beginning to engage more and more in. We have a ridiculous episode, a Bobby Bottleservice episode this season that is as close as we've come to making a super hero kind of movie thing. In season one, Bobby and Peter are ghost bouncers. They bounce ghosts. It was based on the fact that when you watch those ghost hunter shows — have you ever seen those ghost hunter shows?
Marvel.com: Mm hmm.

Nick Kroll: One of the guys or a couple guys, we were like, "Oh my God. That guy dresses and looks like Bobby Bottleservice." And so we made ghost bouncers where they have to bounce the ghost. And this season, Bobby is still in love with Farley, played by Chelsea Peretti, and he can't seem to move on with his life; they decide that he's haunted by the love of Farley, so they go on one last ghost hunting mission, and it's to bounce the love of Farley from his heart. So they go into his body, and Peter and Bobby go into Bobby's body to bounce her love. And it was our only full green screen, totally created, CGI world. And it was Bill Benz, who directed that season, did a beautiful job, like he drew it. He storyboarded it, but it was like, "This is like a comic. Like a graphic novel about Bobby going into his own body and bouncing the love of Farley out of his heart."
Marvel.com: Touching on Comic-Con, what was your experience like walking the floor? You said that was your first time?
Nick Kroll: I've wandered around a little bit. It was my first time going to Artist's Alley, and yeah. I mean, it's still cool. It's a world that obviously, you guys would know better. It just feels like it keeps exploding bigger and bigger. It's this huge nation of culture and it's exciting to constantly be discovering an art form that I'm not familiar with. It's cool and I think, obviously, the impact on the movie industry is just bananas.

Marvel.com: Do you think any of the "Kroll Show" characters relate to any Marvel characters?
Nick Kroll: I would say that Dr. Armond is like Professor X. He's got unending patience with his children and great hope for humanity. The difference being that Armond got hairplugs. I would say Bobby Bottleservice…who's the most aspirational character? Who's someone who's like, reaching above?
Marvel.com: Cyclops, maybe?
Nick Kroll: Sure, yeah! Obviously I would say Tony Stark is a Rich Dick, if I ever saw one. C-Czar's got a quality to him that's almost like Wolverine. He's got a thin dagger, like one of Wolverine's claws. But also, he's got an explosive temper, and once you set him off, it's hard to; and he was a toilet baby, so I think like Wolverine doesn't exactly like, know where he comes from. But he's also, because of that, kind of a survivor; like Wolverine regenerates. So I would say he's like that. Fabrice has a, maybe Deadpool quality to him? He's kind of, again, another survivor. Tough. Funny. Sharp rapier's wit. Well, I wouldn't call Fabrice having a rapier's wit, but like….
Who else? I'm trying to think of other good ones that would fit…I would say Larry Bird is like Superman because he's super boring.
Pick up seasons one and two of "Kroll Show" on DVD now and catch the final season on Comedy Central beginning January 13. Also look for Nick in "Adult Beginners" (which he stars in, produced and wrote), "Captain Underpants," "Sausage Party" and a run on "Brooklyn Nine-Nine." Also, follow Nick on Twitter at @nickkroll.