The Beyonder makes his big super hero debut in this 80's classic!
It's time to face facts, true believers – the 80's were awesome. The shoulders were padded, the costumes were colorful, and Marvel Universe hairstylists made a fortune giving perms to cosmic beings. Thanks to the power of nostalgia, though, what would once be considered extremely embarrassing can now be called extremely awesome!
With that in mind, we've pulled a Marvel comic from the not-so-modern era and broken it down, one radical fact at a time! This week we're singling out SECRET WARS II #6 by Jim Shooter and Al Milgrom. Here's "Life Rules!" by the numbers!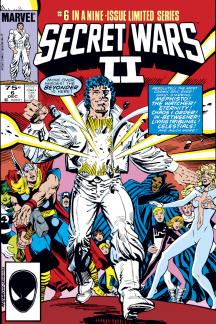 27 cars, 11 planes and 10 pillows on 2 couches in the Beyonder's home

10 heroes playing second fiddle to the Beyonder

8 cosmic beings on the Beyonder's computer screen

5 panels recounting the Beyonder's origin

4 costume changes

1 unexpected houseguest

Get ready for the new Secret Wars launching this May!