The Ant-Men clash in this 90's classic!
It's time to face facts, true believers – the 90's were awesome. The pouches were plentiful, the costumes were impractical, and Marvel Universe dentists made a fortune correcting damages caused by perpetually gritted teeth. Thanks to the power of nostalgia, though, what would once be considered extremely embarrassing can now be called extremely awesome!
With that in mind, we've pulled a Marvel comic from the not-so-modern era and broken it down, one gnarly fact at a time! This week we're singling out FANTASTIC FOUR #388 by Tom DeFalco, Paul Ryan and Mike Lackey. Here's "Deadly is the Dark Raider" by the numbers!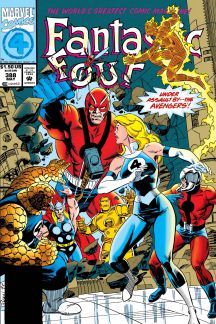 23 ants crawling into Thing's pants

10 attacking ants

9 heroes in an interrupted battle

8 pieces of paper serving as a seat for Scott Lang

6 monitors watched by the Dark Raider

4 Avengers impersonating the Kool-Aid Man

3 Wasp stings

2 antennae on Ant-Man's helmet

Check out Scott Lang's new adventures in ANT-MAN!