Mark Waid and Terry Dodson send the last royal of Alderaan on a mission to find her people in Pincess Leia!
Each week Star Wars Spotlight combs through the digital archives of Marvel Unlimited to showcase one classic story from that distant galaxy filled with Jedi, Sith, princesses, scoundrels and droids.

What's a princess to do when a megalomaniac destroys her planet before her very eyes? If you're Leia Organa, you do your best to hold it all together, enlist the help of a fellow Alderaan native and head out into space to find your fellow survivors.
Much like Jason Aaron's STAR WARS, this five-issue limited series launched in 2015 takes place immediately following the events of "A New Hope" and comes from the massive talents of writer Mark Waid, penciler Terry Dodson, inker Rachel Dodson and colorist Jordie Bellaire.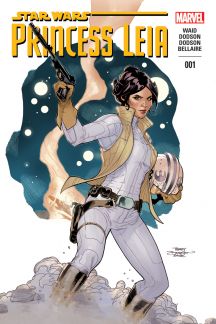 Leia refuses to show much emotion after the destruction of her home planet, which raises the ire of many members of the Rebellion including fellow Alderaanian and pilot Evaan Verlaine. Only after talking to Evaan does Leia realize her true calling: heading out into space to find all the other survivors and unite them in the tenants that made the planet a place of beauty, art and peace.
Instead of asking permission from General Dodonna – thanks to her part in destroying the Death Star, the Empire put out a hefty bounty on her head – Leia sneaks off with Evaan and travels to places like Naboo, Sullust and Espirion to do exactly that.
As you might expect, the journey includes plenty of problems like a potential traitor in their midst, mistrusting Alderaanians and the Empire continuing to make problems from our heroes. Along the way, Leia wins Evaan and the rest of her people over with her persistence, loyalty and above all else, embodiment of what their home planet stood for.
From the Jedi Temple Archives
Nien Nunb, a native of Sullust, plays a large part in the series. In addition to sneaking the Alderaanians off planet, he also hooks them up with a variety of weapons and helps Princess Leia avoid the Empire once again towards the end of the story. He first appeared in "Return of the Jedi" where he co-piloted the Millennium Falcon alongside Lando Calrissian. Not one to skip out on a good fight, he reappeared 30 years later to help the Alliance destroy the First Order's Starkiller weapon in "Star Wars: The Force Awakens."
See what happens next week when Darth Vader crosses everyone's favorite armored bounty hunter in BOBA FETT: ENEMY OF THE EMPIRE.