The all-new, all-different Cap gets his start!
Every day we celebrate Captain America's 75th anniversary by looking deep into the Marvel Unlimited archives and going through some of Steve Rogers' most thrilling adventures. Happy diamond anniversary Sentinel of Liberty!
As the reality-warping Secret Wars came to its epic conclusion, many wondered about Captain America's status in the All-New, All-Different Marvel Universe. As it turned out, writer Nick Spencer had big plans for the whole franchise, but the first book out of the gate, CAPTAIN AMERICA: SAM WILSON, clearly established the former Falcon as the patriotic hero.
Joined by artists like Daniel Acuña and Paul Renaud, Spencer reintroduces the winged warrior to the world by showing major differences his predecessor. While Steve Rogers refused to take part in most political discussions, Sam decides to get right in there and let his opinions be known to the world, which leads to some discord among the people he dedicates himself to protecting.
In the first four issues, Spencer puts Sam through the ringer by pitting him against Hydra goons, Crossbones, the Sons of the Serpent and even his former mentor, Steve Rogers. Wilson's actions also lead to a severing of ties with S.H.I.E.L.D. as well as into the clutches of mad scientist and known Super-Soldier Serum devotee Dr. Karl Malus who turns our hero into the next generation of Cap Wolf!
Luckily for him, Sam's partner and girlfriend Misty Knight comes to his rescue. The two of them head off to take on Malus, who harbors a pair of devious secrets. First, he's got a small army of animal-human hybrids at his disposal; second, he now possesses symbiote-like abilities after being consumed by one in SUPERIOR CARNAGE #5.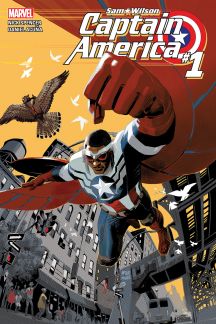 Though Sam and Misty put down the villain and his hybrids, they come to discover that Malus used the vampiric Redwing to turn a young man named Joaquin Torres into a human-falcon combination who will not revert back to his original form. All of this leads to the reveal that the Serpent Society re-branded itself as a business called Serpent Solutions that plans on selling science derived from villains to various corporations as a way to make big bucks.
In an attempt to wrap his mind about what he's up against, Sam meets up with former Serpent Society member turned hero and Steve Rogers' one-time girlfriend Diamondback, a meeting that goes about as far away from planned as possible.
Though only the first four issues of CAPTAIN AMERICA: SAM WILSON appear currently on Marvel Unlimited at this point, they offer not just a great look at the current state of the Star-Spangled Avenger, but also Spencer's love for Cap's long history as the series features more than a handful of familiar faces from the past 75 years!
Cap Declassified
Spencer's first few issues of CAPTAIN AMERICA: SAM WILSON tease the eventual events in Avengers: Standoff, including the creation of Kobik, a child with Cosmic Cube-derived abilities to turn super criminals into regular people. Word of the S.H.I.E.L.D. project gets leaked and talked about in these issues, but the true nature remains a mystery. This of course leads to the events in Pleasant Hill where Kobik eventually turns Steve Rogers back into a young man, but not without re-writing reality to the point where the Star-Spangled Avenger pledges his allegiance to Hydra as seen in the pages of Spencer and Jesus Saiz's CAPTAIN AMERICA: STEVE ROGERS #1 and #2.
Next, witness the final days of the world's most formidable super team in AVENGERS #400-402 by Mark Waid, Mike Wieringo, Mike Deodato Jr. and Tom Palmer.