Various factions scramble for power within the framework of Hydra!
For years, Hydra has lurked in the shadows of the Marvel Universe, a corrupting influence that taxed even the greatest of heroes. With the group scoring their greatest victory in Secret Empire, we take a look back at the History of Hydra…
The History of Hydra stands as one of deep conflict, not only between the organization and the greater world it tried to conquer for generations, but within its own evil ranks. After years of battle with Nick Fury and his ultimate spy system, S.H.I.E.L.D., Hydra scored an incredible victory at the point in time when it added another wrinkle to this war: surprise.
S.H.I.E.L.D.'s longtime director discovered information that revealed his organization's real taskmaster, Hydra, and its unwitting role in intelligence gathering for the criminal group. Baron Wolfgang von Strucker, Hydra's on-again-off-again leader, seemed glad of the revelation, and used it as a springboard to reunite the several separate factions of Hydra under his guidance once again. Pulling together Madame Hydra, Kraken, Hive, Gorgon, and Viper as allies to rebuild what he referred to as Hydra's true existence, he aligned with Norman Osborn's H.A.M.M.E.R. and got back to the business of subjugating the planet.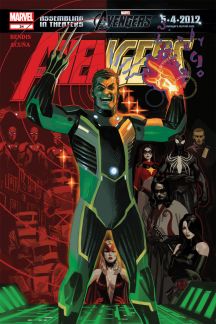 Alas, Nick Fury possessed surprises of his own. When Kraken stood unveiled as Fury's assumed-dead brother Jake, the super spy himself told Strucker that in fact S.H.I.E.L.D. ran Hydra, not the other way around, and then promptly shot the villain in the head.
Leaderless again, Hydra entered into another period of internal power struggles as its cells attempted to operate independently with players such as Madame Hydra leaching away H.A.M.M.E.R. soldiers to bolster her own forces and its science division, A.I.M. Like many times in the past, a weakened Hydra made for fertile ground in which a true master manipulator could rise up and seize its reins for their own end…
Check Out: SECRET WARRIORS #1–2, ALL-NEW CAPTAIN AMERICA #4, NEW AVENGERS #18, AVENGERS #24