Gary Friedrich and Mike Ploog reimagine the iconic horror figure!
Every day this month, a new supernatural character or story from the Marvel Universe gets a spooky spotlight leading up to Halloween!
In 1973, Marvel Comics collided with classic literature in THE MONSTER OF FRANKENSTEIN, by writer Gary Friedrich and artist Mike Ploog!
Mary Shelley's classic sci-fi horror story ends with Victor Frankenstein's monster appearing—and then disappearing—to an Arctic explorer named Captain Robert Walton, who witnesses the monster drifting away on an ice raft, presumably never to be seen again.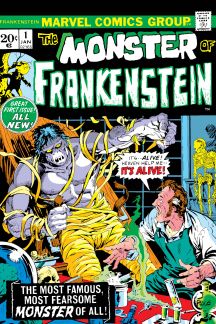 But the comic version picks the story up there! Years later, as Walton's grandson Robert Walton IV searches that exact area for the monster. This Walton felt a great deal of compassion for the creature—who never wanted to exist in the first place—and could do nothing about it.
After finding the beast encased in ice, the young Walton's crew attempted mutiny—fearing that Frankenstein's monster would bring them bad luck on their long journey home. Nonetheless, they brought him aboard.
As they started their mission home, Walton recounted the stories he'd heard from his grandfather's letters. Appearing as flashbacks, the reader witnessed Victor Frankenstein become obsessed with his search for life after death—eventually succeeding in his unholy quest and then immediately regretting his actions.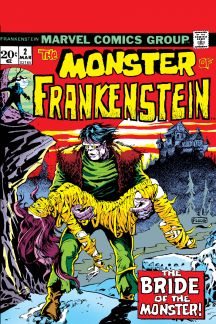 The flashbacks continued, telling the tale of the famous novel. Alone and abandoned, the creature escaped his maker, eventually finding shelter in a blind man's shed. He communed with the man, whose sightlessness allowed for an interpersonal bond previously unknown to the creature. This connection, however, got broken when the man's family visited. Able to see the monster, they attacked him and chased him from the house.
Though filled with hatred for his creator, the monster came to give Frankenstein a way out of the dangerous cat-and-mouse game when he asked for a mate. Victor agreed—and succeeded in creating a companion—but, upon seeing the female monster rise from the dead, the scientist flew into a rage and killed her. In retaliation, the monster killed Victor's fiancé before escaping to the North Pole.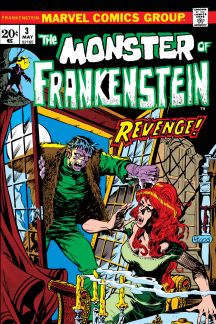 Emerging from the flashbacks, Robert Walton IV's crew sailed into a storm that drove their ship directly into an iceberg. The monster, now thawed from his block of ice, fell overboard…before leaping from the water to attack a lifeboat!
The monster—mercurial in his ways—chose to help Walton, a cabin boy, and a guide named Canute to nearby an island, doing his best to help them survive. The monster then departed, continuing on to a new life.
Fright Fact
In issue #12 of the series—after a particularly brutal battle at Castle Frankenstein—the creature journeyed to a nearby mountain range, where he accidentally fell into icy waters below. The freezing temperatures encased him in ice once again—until he awoke nearly 100 years later, in the modern era, thanks to a few sailors who spotted him in the water. This Cap-esque time leap allowed the creature more opportunities to interact with the larger Marvel Universe, including appearances in GIANT-SIZE WEREWOLF BY NIGHT #2, LEGION OF MONSTERS #1, and even a meeting with Spider-Man in MARVEL TEAM-UP #36–#37!
Celebrate Halloween next week with a look at the horror anthology VAMPIRE TALES!