The King brings his prehistoric saga to a climactic close!
1917 to 2017: 100 years of Kirby.
Join us to celebrate Jack "King" Kirby's 100th birthday by learning about the characters and stories he created that changed comics forever. To commemorate Jack's centennial, we've sat down with the modern-day creators he influenced—and the decades of work he gifted us all.
When last we left Devil Dinosaur and Moon Boy, they'd been split up and faced alien invaders who intended to destroy them both. Moon Boy fled on his own, while DD ran around with a trio of Hill People called White-Hairs, Stone-Hand and Eev. In the pages of DEVIL DINOSAUR #7–9—written, drawn and edited by Jack Kirby—the pair encountered the Demon-Tree, Dino-Riders, and a witch's portal that sent them tumbling through time.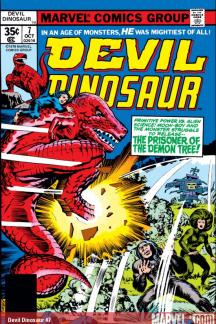 In the first issue of the trio, Devil Dino and his crew happened upon the Demon-Tree first, a device left over from the U.F.O. that still had the ability to go after what it saw as intruders. The computer offered to help the Hill People, but only after blasting at Devil and encasing them in some kind of dome. After our crimson hero rediscovered Moon Boy in the forest, the two eventually returned to see the three Hill People living in a near-paradise inside the dome. However, they'd lost some of their free will, so DD busted through the force field with his might and freed Stone-Hand and Eev, allowing them to go off and live how they wanted.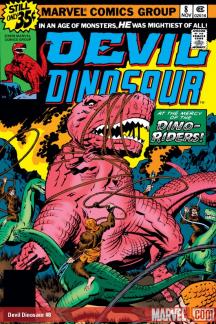 The next issue Moon Boy sought out his people and succeeded in finding them, but also drew the attention of the Killer-Folk with his presence. The evil ones tried to capture Devil, but his partner jumped in to stop them. However, he could not stand alone against their greatest numbers and fled. As the Killers tried to tame Devil Dinosaur, Moon Boy implored his people to help his ferocious friend. Though nervous and scared about the idea, they jumped into action and did their best to fight their physical superiors. This gave Devil enough time to escape and make a ruckus of his own, which included fighting another dinosaur and stomping one of his captors to mush.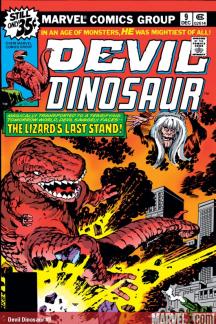 In the final issue, our heroes stumbled across an old witch with great power. Devil tried pursuing her, but Moon Boy convinced him that they should leave her be. Not long after—and directly as she predicted—they fell into a pit that sent DD through a portal while his proto-human companion hung out for dear life. On the other side of that mysterious door, Devil found himself in 1978 Nevada not far from some cougar hunters who found much more dangerous prey than originally intended. Back in his present, Moon Boy climbed a rope dropped for him and soon supplicated himself to the might of the witch.
In the 70s, Devil gave himself a tour of Zuma City, which understandably upset the residents. As they reacted, he ran. In the past, Moon Boy, the witch, and her son worked quickly to open up yet another portal and bring Devil Dino back to his own time! Once again reunited, Moon Boy and Devil Dinosaur ran off to safer pastures and Jack Kirby wrapped a bow on one of his more interesting, entertaining, and beautiful works with plenty of insight if you look just below the surface.
Stay tuned to Marvel.com for more throughout Kirby Month and beyond! And join the conversation on all of our social channels with the hashtag #Kirby100.