Enjoy all the events, panels, cosplay and more!
Photos by Nicole Ciaramella and Joseph Lin.
Enjoy all the events, panels, cosplay and more!
Photos by Nicole Ciaramella and Joseph Lin.
Enjoy all the events, panels, cosplay and more!
Photos by Nicole Ciaramella and Joseph Lin.
Enjoy all the events, panels, cosplay and more!
Photography by Nicole Ciaramella and Joseph Lin.
Tune in and watch Marvel's livestream all four days of Comic Con!
Marvel Entertainment invites you to experience the best of New York Comic Con 2017 LIVE from the heart of Manhattan! Starting Thursday, October 5, tune in to Marvel Entertainment's livestream coverage of NYCC, starting at 3:00 p.m. ET/12:00 p.m. PT and get ready to be a part of one of the biggest fan events of the year!
Hosted by TWHIP! The Big Marvel Show's Ryan Penagos and Lorraine Cink, viewers will be able to watch booth events and panels from the Javits Center, play games with their favorite Marvel comic and television talent, and learn about all the fun surprises happening on the convention floor, from exclusive merchandise to special signings.
Join in on the fun by visiting www.marvel.com/NYCC2017, Marvel's YouTube channel or Marvel's Facebook page. For the first time ever, you can watch Marvel LIVE! from all three platforms! Marvel LIVE! New York Comic Con 2017 is sponsored by Marvel Contest of Champions.
Day 1: Thursday, 10/5:
Day 2: Friday, 10/6:
Day 3: Saturday, 10/7:
Day 4: Sunday, 10/8:
This year, Marvel LIVE! is new and improved. No matter where you are—you can watch what happens live on the NYCC floor, hear behind-the-scenes secrets from your favorite Marvel celebrities, and maybe even witness a surprise or two along the way…
To find a comic shop near you, visit www.comicshoplocator.com or simply chat with some of your favorite heroes with Marvel's chatbot accessible through Twitter and Facebook.
It's time for the Costume Contest & other Cosplay events on the Marvel Stage at New York Comic Con!
We're super excited to announce the Annual Marvel Cosplay & Costuming Events at New York Comic Con this weekend!
First up is the Marvel Cosplay Photo Op.
Friday, October 6th at 10:30am on the Marvel Stage (#1354).
Then do not miss the Marvel Becoming New York Comic Con Costume Contest, Saturday October 7th, at 6:00pm on the Marvel Stage (#1354).
You might see your photo appear on Marvel.com or even win a fabulous prize! Interested in entering? Then make sure to be at the Marvel booth by 6:00pm on Saturday! For official rules.
Plus, on Sunday is the Marvel Kids Costume Event.
Sunday, October 8th at 11:30am on the Marvel Stage (#1354).
For more information on all Cosplay events, please send any questions to Cosplay@marvel.com!
Join Marvel at NYCC for the Annual Costume Contest!
New York Comic Con Marvel Costume Contest Official Rules
NO PURCHASE OR PAYMENT OF ANY KIND IS NECESSARY TO ENTER OR WIN.  A PURCHASE OR PAYMENT OF ANY KIND WILL NOT INCREASE YOUR CHANCES OF WINNING.
1. Eligibility: New York Comic Con Marvel Costume Contest ("Contest") is open to all individuals, provided that any individuals under eighteen (18) years of age ("Minors") must be accompanied by a parent or legal guardian. Employees of Marvel Entertainment, LLC ("Marvel") and its parent, subsidiary and affiliate companies, as well as their immediate family (spouse, parents, siblings and children) and household members of each such employee are not eligible to enter or win.  All entrants must have a valid Saturday or multi-day New York Comic-Con badge to participate.  Any travel, accommodations and other expenses incurred in connection with participating in the Contest are the sole responsibility of the entrant.
The Contest is subject to all applicable federal, state, and local laws and regulations and is void where prohibited. Participation constitutes entrant's full and unconditional agreement to these Official Rules and Sponsor's decisions, which are final and binding in all matters related to the Contest. Winning a prize is contingent upon fulfilling all requirements set forth herein.
2. Sponsor: Marvel Entertainment, LLC, 135 W. 50th Street, New York, NY 10020.
3. Timing: The Contest begins on October 7, 2017 at 6:00pm Eastern Time ("ET"), and ends on October 7, 2017 at 7:00pm ET (the "Promotion Period").
4. How to Enter: To enter, entrants must (i) be present at Sponsor's booth at the New York Comic Con on October 7, 2017 no later than 6:00pm ET, dressed in a costume portraying a Marvel character ("Costume"); (ii) sign and return Sponsor's model release; and (iii) appear on the Marvel stage and in front of the Marvel judges.  For entrants who are Minors at the time of entry, a parent or guardian must be present to sign Sponsor's model release. No purchase of any product is necessary to enter or win. Limit one entry per person.
All Costumes must conform to the additional submission requirements set forth herein:
Costumes cannot be sexually explicit or suggestive, unnecessarily violent or derogatory of any ethnic, racial, gender, religious, professional or age group, profane or pornographic, contain nudity or any materially dangerous activity; Costumes cannot promote alcohol, illegal drugs, tobacco, firearms/weapons (or the use of any of the foregoing), any activities that may appear unsafe or dangerous, or any particular political agenda or message; Costumes cannot be obscene or offensive, endorse any form of hate or hate group; Costume cannot defame, misrepresent or contain disparaging remarks about Sponsor or its products, or other people, products or companies; Costume cannot infringe trademarks, logos or trade dress owned by others, or advertise or promote any brand or product of any kind, or contain any personal identification other than entrants; Costume cannot infringe copyrighted materials owned by others; Costume cannot communicate messages or images inconsistent with the positive images and/or goodwill to which Sponsor wishes to associate; and Costume cannot depict, and cannot itself, be in violation of any law.
5. Winner Selection: Prizes will be awarded by Marvel judges based on the following criteria: (i) costume craftsmanship (e.g. props, wigs, clothing); (ii) attitude on stage while wearing costume; (iii) overall appearance; and (iv) overall attitude. Sponsor will select one (1) potential first-place finisher, one (1) potential second-place finisher, one (1) potential third-place finisher, and multiple potential honorable mention finishers from all eligible entries received. Odds of winning depend on the number of eligible entries received. Potential winners are subject to verification. If any potential winner is found not to be eligible or not in compliance with these Official Rules, if any required documents are not signed and returned, if the winner cannot be verified, or if the winner is otherwise unable or unwilling to accept and claim the prize as stated, then the prize may be forfeited. Sponsor may provide winner with a W-9 form, which winner must complete and return to Sponsor for tax reporting purposes or the prize may be forfeited.  Any prize won by an eligible entrant who is a minor in his/her state of residence will be awarded to the minor's parent or legal guardian, who must sign and return any required documents. Receiving the prize is contingent upon compliance with these Official Rules.
6. Prizes: Each first-place, second-place, third-place, and honorable mention finisher (each, a "Winner") will receive a plaque. The approximate retail value ("ARV") of each prize is $25. The ARV is determined as of date of printing of these Official Rules. The difference in the ARV of the prize as stated herein and value at time of prize notification, if any, will not be awarded. Prize is not redeemable for cash, and no substitution will be made except as provided herein at the Sponsor's sole discretion. Prize is taxable income to the winner and winner will be responsible for all taxes and fees associated with prize receipt and/or use, if any.
7. Release: By entering this Contest, each entrant agrees to release and hold harmless Sponsor and its direct and indirect subsidiaries, suppliers, distributors, advertising/promotion agencies, and prize suppliers (if any), and each of their respective parent companies and each such company's officers, directors, employees and agents ("Released Parties") from and against any claim or cause of action, including, but not limited to, personal injury, death, or damage to or loss of property, arising out of participation in the Contest or receipt or use or misuse of any prize. Released Parties make no warranties, and hereby disclaim any and all warranties, express or implied, concerning the prizes furnished in connection with the Contest.  WITHOUT LIMITING THE GENERALITY OF THE FOREGOING, SUCH PRIZE IS PROVIDED "AS IS" WITHOUT WARRANTY OF ANY KIND, EITHER EXPRESS OR IMPLIED, AND RELEASED PARTIES HEREBY DISCLAIM ALL SUCH WARRANTIES, INCLUDING BUT NOT LIMITED TO,
THE IMPLIED WARRANTIES OF MERCHANTABILITY, FITNESS FOR A PARTICULAR PURPOSE AND/OR NON-INFRINGEMENT.
8.Publicity: Except where prohibited, participation in the Contest constitutes a winner's consent to Sponsor's and its agents' use of entrant's name, likeness, photograph, voice, opinions and/or hometown, and state, for promotional purposes in any media now known or hereinafter developed, worldwide, without further payment or consideration. Entrant's name and likeness may be published on Sponsor's website, in Sponsor's sole discretion.
9.General Conditions: Sponsor reserves the right to cancel, suspend and/or modify the Contest, or any part of it, if any fraud, technical failures or any other factor beyond Sponsor's reasonable control impairs the integrity or proper functioning of the Contest, as determined by Sponsor in its sole discretion. Sponsor reserves the right, in its sole discretion, to disqualify any individual it finds to be tampering with the entry process or the operation of the Contest or to be acting in violation of the Official Rules of this or any other promotion or in an unsportsmanlike or disruptive manner.  Any attempt by any person to deliberately undermine the legitimate operation of the Contest may be a violation of criminal and civil law, and, should such an attempt be made, Sponsor reserves the right to seek damages from any such person to the fullest extent permitted by law. Sponsor's failure to enforce any term of these Official Rules shall not constitute a waiver of that provision.
10. Limitations of Liability: By entering this Contest and/or accepting any prize, entrants agree, represent and warrant that (a) entrant will be bound by these Official Rules and the Sponsor's decisions, which shall be final in all respects; (b) entrants release and hold harmless the Released Parties from any and all liability for claims, injuries, losses or damages of any kind, including without limitation, death and bodily injury, resulting, in whole or in part, directly or indirectly, from the awarding, delivery, acceptance, use, misuse, possession, loss or misdirection of any prize; participation in the Contest or any Contest-related activity, or from any interaction with, computer information; (c) Sponsor is not responsible for: (1) any incorrect or inaccurate information, whether caused by entrants, typographical errors, printing errors or by any of the equipment or programming associated with or utilized in the Contest; (2) technical failures of any kind, including, but not limited to malfunctions, interruptions, or disconnections in phone lines or network hardware or software; (3) unauthorized human intervention in any part of the entry process or the Contest; (4) technical or human error which may occur in the administration of the Contest or the processing of entries; or (5) any injury or damage to persons or property which may be caused, directly or indirectly, in whole or in part, from entrant's participation in the Contest or receipt or use or misuse of any prize.  If for any reason an entrant's entry is confirmed to have been erroneously deleted, lost, or otherwise destroyed or corrupted, entrant's sole remedy is another entry in the Contest, if it is possible. If the Contest, or any part of it, is discontinued for any reason, Sponsor, in its sole discretion, may elect to hold a random drawing from among all eligible entries received up to the date of discontinuance for the prize offered herein.
11. Binding Arbitration: Any controversy or claim arising out of or relating to this Contest shall be settled by binding arbitration in a location determined by the arbitrator as set forth herein (provided that such location is reasonably convenient for claimant), or at such other location as may be mutually agreed upon by the parties, in accordance with the procedural rules for commercial disputes set forth in the Comprehensive Arbitration Rules and Procedures of JAMS ("JAMS Rules and Procedures") then prevailing, and judgment upon the award rendered by the arbitrator(s) may be entered in any court having jurisdiction thereof. The arbitrator shall be selected pursuant to the JAMS Rules and Procedures. The arbitrator shall apply New York law consistent with the Federal Arbitration Act and applicable statutes of limitations, and shall honor claims of privilege recognized at law. In the event that the claimant is able to demonstrate that the costs of arbitration will be prohibitive as compared to the costs of litigation, Sponsor will pay as much of the claimant's filing and hearing fees in connection with the arbitration as the arbitrator deems necessary to prevent the arbitration from being cost-prohibitive. If any part of this arbitration provision is deemed to be invalid, unenforceable or illegal (other than that claims will not be arbitrated on a class or representative basis), or otherwise conflicts with the rules and procedures established by JAMS, then the balance of this arbitration provision shall remain in effect and shall be construed in accordance with its terms as if the invalid, unenforceable, illegal or conflicting provision were not contained herein. If, however, the portion that is deemed invalid, unenforceable or illegal is that claims will not be arbitrated on a class or representative basis, then the entirety of this arbitration provision shall be null and void, and neither claimant nor Sponsor shall be entitled to arbitrate their dispute. Upon filing a demand for arbitration, all parties to such arbitration shall have the right of discovery, which discovery shall be completed within sixty (60) days after the demand for arbitration is made, unless further extended by mutual agreement of the parties.  THE ARBITRATION OF DISPUTES PURSUANT TO THIS PARAGRAPH SHALL BE IN THE ENTRANT'S INDIVIDUAL CAPACITY AND NOT AS A PLAINTIFF OR CLASS MEMBER IN ANY PURPORTED CLASS OR REPRESENTATIVE PROCEEDING. THE ARBITRATOR MAY NOT CONSOLIDATE OR JOIN THE CLAIMS OF OTHER PERSONS OR PARTIES WHO MAY BE SIMILARLY SITUATED.  DO NOT ENTER THIS CONTEST IF YOU DO NOT AGREE TO HAVE ANY CLAIM OR CONTROVERSY ARBITRATED IN ACCORDANCE WITH THESE OFFICIAL RULES.
BY PARTICIPATING IN THE CONTEST, EACH ENTRANT AGREES THAT TO THE EXTENT PERMITTED BY APPLICABLE LAW: (1) ANY AND ALL DISPUTES, CLAIMS AND CAUSES OF ACTION ARISING OUT OF OR CONNECTED WITH THE CONTEST, OR ANY PRIZE AWARDED, WILL BE RESOLVED INDIVIDUALLY THROUGH BINDING ARBITRATION AS SET FORTH ABOVE, WITHOUT RESORT TO ANY FORM OF CLASS ACTION; (2) ANY AND ALL CLAIMS, JUDGMENTS AND AWARDS WILL BE LIMITED TO ACTUAL THIRD-PARTY, OUT-OF-POCKET COSTS INCURRED (IF ANY), BUT IN NO EVENT WILL ATTORNEYS' FEES BE AWARDED OR RECOVERABLE; (3) UNDER NO CIRCUMSTANCES WILL ANY ENTRANT BE PERMITTED TO OBTAIN ANY AWARD FOR, AND ENTRANT HEREBY KNOWINGLY AND EXPRESSLY WAIVES ALL RIGHTS TO SEEK, PUNITIVE, INCIDENTAL, CONSEQUENTIAL OR SPECIAL DAMAGES, LOST PROFITS AND/OR ANY OTHER DAMAGES, OTHER THAN ACTUAL OUT OF POCKET EXPENSES), AND/OR ANY RIGHTS TO HAVE DAMAGES MULTIPLIED OR OTHERWISE INCREASED; AND (4) ENTRANT'S REMEDIES ARE LIMITED TO A CLAIM FOR MONEY DAMAGES (IF ANY) AND ENTRANT IRREVOCABLY WAIVES ANY RIGHT TO SEEK INJUNCTIVE OR EQUITABLE RELIEF. SOME JURISDICTIONS DO NOT ALLOW THE LIMITATIONS OR EXCLUSION OF LIABILITY, SO THE ABOVE MAY NOT APPLY TO EVERY ENTRANT.
12. Governing Law & Jurisdiction: The Official Rules and the Contest are governed by US law and are subject to all applicable federal, state and local laws and regulations. All issues and questions concerning the construction, validity, interpretation and enforceability of the Contest Official Rules, or the rights and obligations of Entrant and Sponsor in connection with the Contest, shall be governed by, and construed in accordance with, the laws of the State of New York, U.S.A., without giving effect to the conflict of laws rules thereof, and any matters or proceedings which are not subject to arbitration as set forth in Section 12 of these Official Rules and/or for entering any judgment on an arbitration award, shall take place in the State of New York, in the City of New York.
13. Entrant's Personal Information: Information collected from entrants is subject to Sponsor's Privacy Policy found at http://www.disneyprivacycenter.com.
14.Winners List:  For a list of Winners, interested individuals should place their name and address on a 3″x 5″ card and mail it in an envelope to: 135 W. 50th Street, 7th Floor, New York, NY 10020; Attn: Judy Stephens.  Winner List requests must be received no later than ninety (90) days after the Promotion Period end date.
The King leaves his mark on a Wild West legend—Marvel style!
1917 to 2017: 100 years of Kirby.
Join us to celebrate Jack "King" Kirby's 100th birthday by learning about the characters and stories he created that changed comics forever. To commemorate Jack's centennial, we've sat down with the modern-day creators he influenced—and the decades of work he gifted us all.
We all know that Jack Kirby revolutionized the world of super heroes with his dynamic work at Marvel, but it's important to also remember how he brought those same talents to sci-fi, horror, war, and even western stories. Not long ago, we highlighted Stan Lee and Kirby's work on RAWHIDE KID, but the dazzling duo also teamed up to put an interesting twist on the title hero in 1962's TWO-GUN KID #60.
While the gunslinger had existed prior to the Lee-Kirby issue in question, they brought a new version to life in the form of Matt Hawk, a lawyer from the east who moved to Tombstone, Texas. Upon arrival, he immediately garnered the attention of some local ruffians as well as schoolmarm Nancy Carter.
Not long after realizing that his new town didn't exactly crave a new lawyer, Hawk witnessed a group of bullies hassling an old man named Ben Dancer who used to be the fastest gun in the west. Matt ran out to help which gave the old timer a chance to show that he still had some of those vaunted skills.
After formally introducing themselves to each other, Matt and Ben became friends, with the elder of the pair teaching the younger the ways of sharpshooting and other classic cowboy skills such as using a lasso and jumping on a running horse. In a nod to another classic Marvel hero, Hawk later admitted that he moved out west because his doctor deemed him too weak.
With their training over, Ben urged Matt to take on a secret identity to use his new skills and thus the black-and-orange clad Two-Gun Kid came to life! If you're wondering about the previous version from the prior 59 issues, don't worry; in this story, the original existed as a character in stories that Matt read!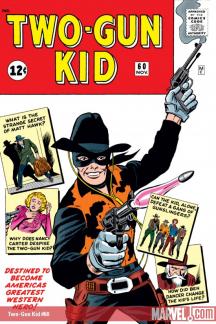 Having passed on his knowledge, Ben planned to head east, but got stopped by the bandits he took on earlier in the story. When his mentor's horse rode back into town by itself, Matt knew trouble brewed, put on his new duds, hopped on Thunder and took off.
Appearing as if from nowhere, the Kid took out a few of the bad guys before they knew what hit them and then used his skills to disarm and ultimately beat down the villains. In the process he spared Clem Carter, who just so happened to be Nancy's brother!
Though Stan and Jack would only team up for the next few issues of TWO-GUN KID, they laid down a new template for others to play with, giving Matt Hawk many of the same problems as one of the modern super heroes that continued to grow in popularity thanks in large part to that classic Kirby style!
Stay tuned to Marvel.com for more throughout Kirby Month and beyond! And join the conversation on all of our social channels with the hashtag #Kirby100.
Tamra Bonvillain, colorist, joins the Women of Marvel!
Hosts Judy Stephens and Christina Harrington are joined by Colorist Tamra Bonvillain for a new Voices of Marvel Segment.
Listen to the Women of Marvel – Episode 153 now!
Plus, make sure you  make it to the Women of Marvel Panel at New York Comic-Con on Sunday, October 8th at 2:45pm in Room 1A06!
——————–
The Women of Marvel podcast assemble to chat all things Marvel and more! New episodes will be released every Thursday, co-hosted by Marvel Director, Content and Character Development Sana Amanat, Marvel.com Producer Judy Stephens, along with Assistant Editor Christina Harrington.
Have feedback or questions? Email us at WomenOf@marvel.com, or tweet your questions and comments to @Marvel with the hashtag #WomenOfMarvel.
Exclusive Spider-Man news from Nick Lowe leads the latest edition of the official Marvel podcast!
Guess what, faithful fans–we're back with a brand new episode of This Week in Marvel, the official Marvel podcast!
Catch upon all the latest comics news and info as Ryan, Ben and Tucker give you the rundown on all of this week's greatest comics releases including DEADPOOL, DEFENDERS, RUNAWAYS, SECRET EMPIRE OMEGA, STAR WARS, and so much more! And then, Ben grills Spider-Man editor Nick Lowe for the exclusive announcement of Venom, Inc. a major crossover affecting the Wall-Crawler and one of his greatest foes! (1:08:42).
Over on the West Coast, Christine enlists Danny Koo and Tim Tsang from Marvel Games to help get set for "Marvel Vs. Capcom: Infinite," coming next week! (1:21:01) And from there, it's back east for your questions and comments! (1:37:08)
Download episode #307 of This Week in Marvel from Marvel.com, check out Marvel Podcast Central, grab the TWiM RSS feed and subscribe to This Week in Marvel on iTunes, so you never miss an episode! We are now also on Soundcloud! Head over now to our new hub to listen to the full run of This Week in Marvel!

This Week in Marvel will focus on delivering all the Marvel info on news and new releases–from comics to video games to toys to TV to film and beyond! New episodes will be released every Thursday (or so) and TWiM is co-hosted by Marvel VP & Executive Editor of Digital Media Ryan "Agent M" Penagos and Marvel Editorial Director of Digital Media Ben Morse, along with Marvel.com Editor Marc Strom, Marvel.com Assistant Editor Christine Dinh, and Manager of Video & Content Production Blake Garris. We also want your feedback, as well as questions for us to answer on future episodes!  Tweet your questions, comments and thoughts about TWiM to @AgentM, @BenJMorse, @chrissypedia or @Marvel with the hashtag #ThisWeekinMarvel!