Nick Fury sends Captain America on a mission that leads to M.O.D.O.K.!
1917 to 2017: 100 years of Kirby.
Join us to celebrate Jack "King" Kirby's 100th birthday by learning about the characters and stories he created that changed comics forever. To commemorate Jack's centennial, we've sat down with the modern-day creators he influenced—and the decades of work he gifted us all.
After he spent a trip abroad—and several issues drawn by Gil Kane—Jack Kirby and Stan Lee returned Captain America to New York City in TALES OF SUSPENSE #92–94. As our hero ruminated on love and loss while wandering his way towards Avengers HQ, Steve Rogers stumbled into an A.I.M. plot to kill Nick Fury at the secret barber shop entrance to the underground organization's NYC locale with a Mecho-Assassin! However, he arrived too late to stop the android from blasting away at Fury and seemingly killing the S.H.I.E.L.D. head honcho. Enraged, Cap flew into battle against the assailant. However, the creature nearly defeated the Avenger until the real Fury revealed himself and the droid disintegrated itself.
Fury then explained to Cap that the whole ruse had been set in place to help cover an undercover agent who had infiltrated A.I.M.. As a way to garner favor with her marks, she pretended to offer her boss up on a silver, bloody platter. Unfortunately for the mission, the Sentinel of Liberty's presence threw a wrench in their plans and put the operative—soon to be revealed as Agent 13, a.k.a. Sharon Carter—in grave danger. So, to help the S.H.I.E.L.D. spy who happened to remind him of his girl during the war, Captain America agreed to take on Advanced Idea Mechanics once again!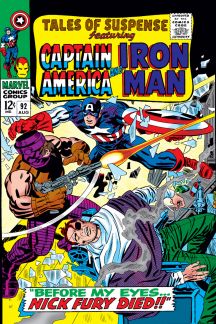 The Shield-Slinger used the gorgeously designed Mini-Cruiser to track down A.I.M.'s gigantic sub base in the ocean, but those yellow-clad villains managed to capture him and serve him up to their master, M.O.D.O.K., who would make his first full appearance in #94! Agent 13 ended up saving Cap rather than vice versa, sending the two on a wild run as they attempted to escape the A.I.M. sub. First, they reclaimed his shield and then worked to fulfill her original mission of finding out who or what had been code-named "M.O.D.O.K."
They soon succeeded in seeing this strange being up close, including his various mind beams, which he unleashed in an effort to destroy Captain America. A surprise came not long after they engaged in this battle, as A.I.M. agents flipped on their supposed leader and helped the heroes take him out! Being an upstanding sort, Rogers wouldn't let the A.I.M. agents finish off M.O.D.O.K. and put a stop to their insurgence. He and Agent 13 then loaded the remaining yellow hoods in a sub and took off while M.O.D.O.K. set off a self-destruct sequence that destroyed the larger base, apparently killing himself in the process!
Stay tuned to Marvel.com for more throughout Kirby Month and beyond! And join the conversation on all of our social channels with the hashtag #Kirby100.